An Indian mobile handset manufacturing company 'Olive Telecommunications' has come up with an innovative idea of including most commonly used 'AAA' size batteries in the mobile handsets.
Gurgaon based Olive telecommunications has said while launching the model FrvrOn (= forever on) that this product is will come handy for those residing in rural areas that are having erratic power supply. The specially mobile handset as you can see in the picture, will have a provision for inserting an 'AAA' battery besides conventional Lithium-ion battery on the rare side.This is a dual powered phone.
"With our phone, all one needs to do is pack a few extra cells (batteries) if one is travelling in areas where one expects power supply disruptions."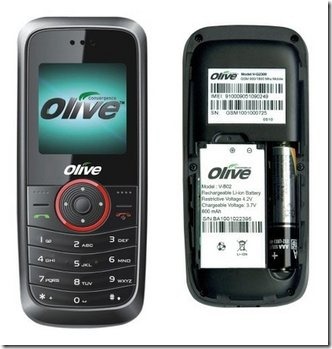 Mobile Handset Details:
Brand name: Olive Telecommunications
Handset model: FrvrOn
Battery backup : 3 hours (Li-ion) + 1 Hour (AAA battery emergency back up)
Price: Rs. 1699 INR ($ 35)
This is interesting.We need to see how other mobile phone manufactures will take out of this.Using 'AAA' batteries may not provide the longer talk time but definitely will reduce the hazards of  conventional Li-ion batteries bursting.
Via Yahoo News(AFP)