Google Adsense is set to roll out a new interface to all the Adsense publishers in the coming months. Currently Adsense new beta interface is under testing and is available to few publishers initially. While some publishers have already got the invitation from Adsense to enable new interface for their accounts, there are still a large number of publishers eagerly waiting for the invitation to arrive in their inbox.
As you can in the below snapshot which is a courtesy of Adsense official blog, the new interface will present your Adsense data in a more enhanced view by showing Adsense reports in using graphs. The new interface makes it easier to change the settings of several ad units simultaneously, with enhanced and improved Ad Review Center.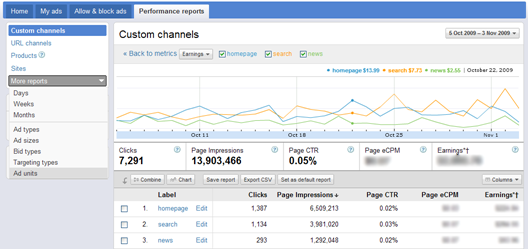 Can't wait to see this new beta interface for your account? It's easier, follow the link below and enter your name, contact email and your Adsense Publisher ID and submit the form. You can now get the new Adsense beta interface enabled for you.
Link: New Adsense interface interest form