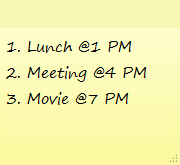 Sticky notes in Windows is a fastest way to quickly take a note or add quick reminders, the easy way. You can easily add a new sticky note by searching for "sticky notes" in the Start Menu and by launching the Sticky notes application.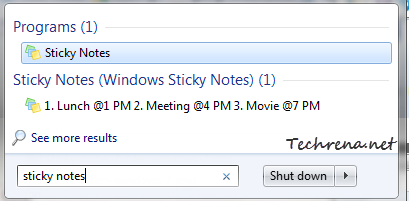 If you use sticky notes much, you might want to save and backup them so that they can be restored and used on another computer. Follow these below steps to learn how you can do this.
Steps:
1. Navigate to the following folder in your explorer:
C:\Users\<username>\AppData\Roaming\Microsoft\Sticky Notes\StickyNotes.snt
Where <username> is the your Windows user account name through which you are logged on.
2. You need to enable the option to show hidden files and folders in order to see the "AppData" folder and  StickyNotes.snt file in your explorer.

3. Now you just need to copy the above file to another external media like USB flash drive or external Hard disk, to save the backup and later move it to the same folder (mentioned in step-1) of the target PC where you want to see these sticky notes.
You can use this tip to restore your sticky notes on a new computer or on the same computer when you reinstall your Windows 7 copy replacing the older installation.