Orkut, Google's popular Social networking website in Brazil, India & Pakistan is one of the largest daily visited site in these countries (mainly among the youngsters).Popularity always bring exploitations, isn't it?  you can always find so many hacks, tweaks, tips, hacks exchanged between the users about Orkut.
The one such vulnerable feature being exploited was taking the ownership of an ownerless community.If the profile of the existing owner of a community gets deleted or the something of that sort happens and the community suddenly becomes ownerless.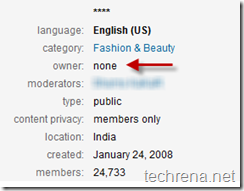 Orkut had an easy option till last year that enables any user who is active in the community for at least a period of 7 days.That means that if I want to become a owner of a big community which is currently ownerless (of course for notorious reasons), then what I'd do is I just simply scan the orkut for such commnities and I'll find the best of such communities and join.Then after 7 days, I'd get a link "Become the owner of this community" I click it and would become the owner.
Well, if you have been using these kind of tricks, may be not anymore from now, Google has recently updated the criterion for becoming owner of an ownerless community,
To become the owner of an ownerless community, you must need to be member of that community for at least 3/4th of the age of that community
So, as per the new rules to become a owner, you must be a member of that community for at least 3/4 th age of the community and also the age of the community should be more than 7 days by the time of registration.
However, as expected this is sure to rise the voices of the other group of people.Orkut users expressed their concerns over here and here.
This policy is subject to change if the Orkut team thinks it is important for the safety of orkut communities in general