Google has announced the launch of "Browser Size" (@ http://browsersize.googlelabs.com/), the newest of Google labs features that lets you see your website using standard view as it appears to the typical visitor of your website.
It depicts the most visible parts of your website and the part of the website which doesn't strike to the visitor at the first sight and that requiring a scroll of the page to bring it visible to the visitor.
Just visit Browser Size page, and key in your website URL, to check the visibility of your website/ webpage.It produces lines of different bands of colours for different visibility percentages.For instance if your support website has a button (call for action scenario) "Donate" that falls in the 80% band, it means that 20% of your visitors can't find it at first sight and they are forced to scroll down to see that button.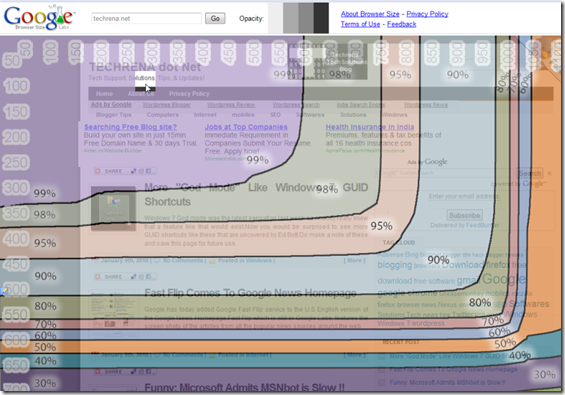 The above is a screen shot of the Browser Size tool test for techrena.net.You can test the results with choosing different opacity.The percentages here refer to the visitors coming to Google, like the "90%" contour means that 90% of people visiting Google have their browser window open to at least this size or larger.
Read more about Browser size