If you are using Internet Explorer 7, 8 or even the latest IE9 beta, you might have noticed the change in position of the menu bar from IE or even from other browsers like Firefox, which shows the menu bar above the address bar. Of course, even though there's no harm when the menu bar is at the top or beneath the address bar, but given the fact that you might have been accustomed to using it at the top. Here we have come up with a small tweak involving registry editor, which can change the position of menu bar in the Internet Explorer.
Default menu bar position in IE:

As you can see the menu bar is located beneath the address bar (location bar) in the Internet Explorer. Follow the steps mentioned below to change its position:
Steps:
1. Press Start button + R to open the run command bar. Type "regedit" and press enter.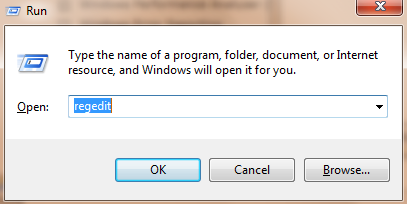 2. In the registry editor, navigate to the following path:
HKEY_CURRENT_USER> Software> Microsoft> Internet Explorer> Toolbar> WebBrowser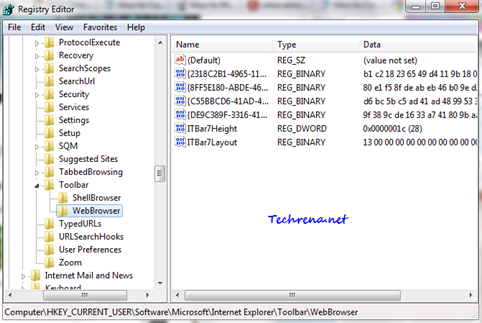 3. Right-click on the right hand side pane and select "New > DWORD (32-bit) Value".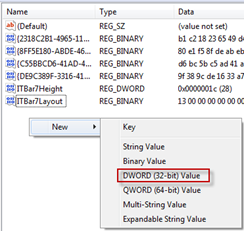 4. Give the DWORD value ITBar7Position:

5. Right click on ITBar7Position and choose "Modify".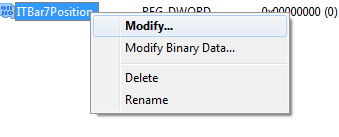 6. Enter "1" under the value date filed instead of "0" and click OK. Close the Registry Editor.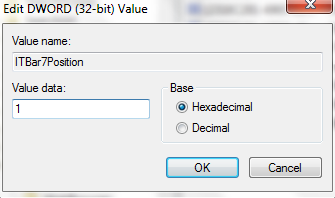 You are done with the tweaking. Open Internet Explorer now and you should see the IE menu bar being moved to top like this one: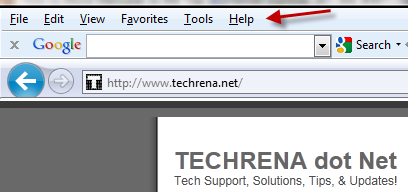 Warning: If you are a novice user of Windows and doesn't know much about Registry Editor, stay away from this tweak. A wrong edit at the wrong place in Registry Editor can make your Windows corrupt. Always take a backup of the registry editor before working with it (use File > Export > save location).