This might have happened to all of us- You are writing an email and you want to quote something from a webpage, you try to copy text and paste it in the email editor, you will see the original fonts, colors, spacing and styling attached to it, but you are just concerned about the plain text and you don't want any sort of styling attached to it.
When the traditional Ctrl + V command just pastes the text with all formatting, Google Chrome team has developed an easy shortcut Ctrl + Shift + V command (Command + Shift + Option + V on Mac OS) to just "paste as plain text".

Take a look at the following screenshot which highlights the advantage of this particular shortcut while writing an email in Google Chrome.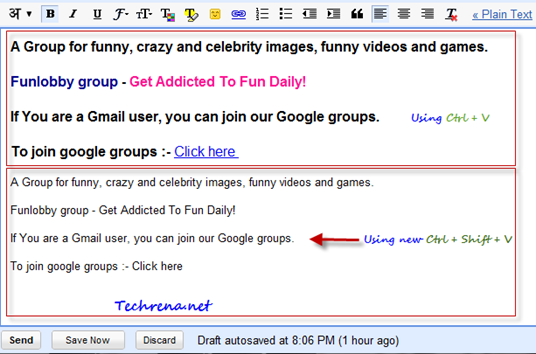 You can use this keyboard shortcut for any rich editor like Gmail's compose mode, or even in editing documents in Google docs etc. to remove all the unwanted formatting and styling from the text from webpages.