If you are used to Firefox browser for long, you might be aware of the warning message or confirmation message that appears when you try to close multiple tabs as you can see in the following screenshot:

This is quite useful when you hit the close button accidentally with multiple tabs opened. Unfortunately such feature isn't there in Google Chrome by default. But thanks to "Chrome Toolbox" extension developed by Google itself, the extension adds this missing feature and can be configured from the extension settings.
To get started, just install the Chrome Toolbox, and open the extension options. Check against the "Confirm before closing multiple tabs" and that is it. Now you will get a confirmation message like below when you try to close multiple tabs in Google Chrome.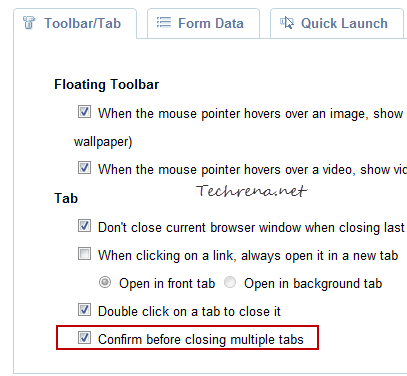 Chrome Toolbox Options is really an interesting extension which is aimed to increase the user's productivity. You can many find various handy options which you would otherwise feel missing in the browser. For instance when you enable "When the mouse pointer hovers an image, show image floating toolbar" options, you get additional options for each image on a page to view the original image in its natural size, or to use a magnifier or to use it as your wallpaper etc. There are plenty other useful options as well. We recommend that you install this extension from the Chrome extensions gallery to enhance your browsing experience in Chrome(link added below).
Install Chrome Toolbox
[via]