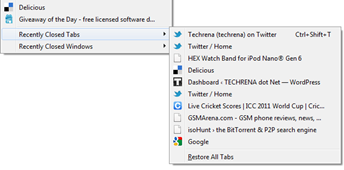 Firefox lets users to quickly reopen few of the recently closed tabs for quicker access. Even though the users can go to the history and access all of the webpages that were accessed or closed previously, the "Recently Closed Tabs" that appears under the "History" menu item is surely a timesaver for many of us. But yes, there are people who don't like this feature. You can always configure Firefox to not to remember any of your recently closed tabs or manually configure it to remember certain number of the recently closed tabs. Here is what you have to do:
1. Type about:config in the address bar and hit enter.
2. A warnings message will be shown, accept that you would be careful while working the about:config entries.

3. In the "Filter" filed, type the following text code and look for an entry which exactly matches with it.
browser.sessionstore.max_tabs_undo

4. Double click on the entry. By default it will hold a value "10", meaning that it will remember and show the last ten recently closed tabs. Here we want none. So change the value from 10 to 0.

That is it! Firefox will no longer remember your recently closed tabs. If you have entered any other non-zero value, Firefox will let you see that many number of the most recently closed tabs.