After releasing DirectX 10 for Windows Vista, Microsoft has released its successor DirectX 11 with Direct3D 11 keeping Windows 7 gamers in mind.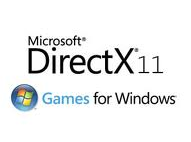 DirectX include the APIs like DirectDraw, DirectMusic, DirectPlay, DirectSound. The "X" in DirectX denote all these APIs. DirectX 11 (with Direct3D 11) for Windows 7 boasts of many feature improvements over its predecessor and promises to provide rich gaming experience for Windows users.
The new features in DirectX 11 include:
>> Tessellation: Tessellation in simple terms is like tiling of a plane. With tessellation, higher dimensions images etc. are possible. This is implemented on the GPU.
>> Multi-Threading: With the help of Multi-threading in DirectX 11, developers can take the full advantage of the power of multi-core processors.
>> DirectComputer: This feature besides from improving graphics, can also improve the day-to-day tasks that the users accomplish on their PCs like video editing using Windows Movie Maker in Windows 7 etc.
Although Windows 7 will not have any compatibility issues with games that use older versions of DirectX (like DirectX 9 or DirectX 10 etc.), the new features in DirectX 11 will appeal to the PC gamers a lot.  If you are looking for DirectX 11 based cards from the graphics manufactures, you can visit the links for: ATI DirectX 11 & nVidia DirectX 11. Find the download links for DirectX 11 (DirectX2D 11) for Windows 7 and Windows Vista below.
Download Direct3D 11:
Windows 7 Direct3D 11 (DirectX 11) Web Installer