Microsoft has released a new eBook for Excel 2010 users who have upgraded from earlier versions like Excel 2003. Titled Rev Up to Excel 2010: Upgraders Guide to Excel 2010, the book is authored by Bill Jelen of MrExcel.com. This 250-page ebook covers every nook and corner of the latest Microsoft Excel 2010 software.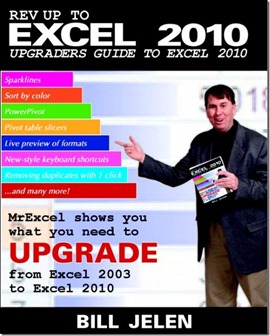 The book is divided into 20 chapters.The first 11 chapters of the book deal with all the new changes in the Excel 2010 interface. Chapter 12 speaks about the new features and functions in Excel 2010. Chapters 13 through 20 are about data wrangling and business intelligence.
This book is a must and will be of great help particularly if you are upgrading from an earlier version of Excel to the latest Excel 2010.
Download Rev up to Excel 2010: Upgraders Guide to Excel ebook [16.2 MB]