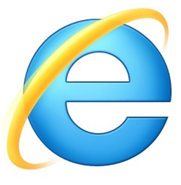 Microsoft has just released the release candidate version of the Internet Explorer 9 for Windows 7 and Windows Vista operating systems. The first public beta of Internet Explorer 9 was released in September 2010. So that was like nearly five months ago. Microsoft has stated that there were more than 2,000 changes incorporated since the release of IE9 beta. Here are the few new feature improvements in the Internet Explorer 9 release candidate.
>> Improved JavaScript Engine (Chakra) Performance
>> Dynamic GPU Usage
>> Lesser Power Consumption Levels
>> 'Do Not Track' feature
Other minor improvements include the increase of temporary internet files size from 50 MB to 250 MB.
Download IE9 RC:
Download the Internet Explorer 9 RC (Build 9.00.8080.16413) online setup (from the below links) which needs an active internet connection to download and install the browser on your Windows.
For more information on IE9 RC release, read this blog post on official IE9 blog.