You must have read our earlier post about how to save YouTube or any flash videos from temporary internet file to your hard disk drive as FLVs.
Now, Trevor of How-To-Geek has come up with a mush simpler solution for downloading YouTube videos that doesn't require installing any browser plugins, or any video grabbing softwares.
All you need is small Bookmarking script as looks like the one given below:
Get YouTube video – (Drag into your bookmarks- currently working to make it work)
Drag this YouTube Bookmarklet grab script into your bookmarks (see the animated image below)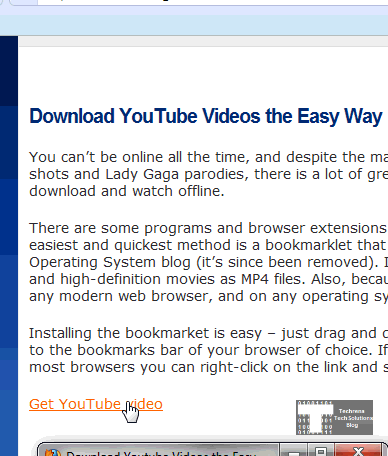 Now open any YouTube video, and find a small links below the User profile, you can find two links in this particular case "Standard MP4" and "HD 720p".
Watch the below video to see the overview of the whole process.
Video: YouTube Bookmarklet
The advantage of using this process is that you need not install any buggy extensions for your browser to get this feature.Also it saves time by giving a direct download link for any YouTube video.
Thanks Trevor for the tip !!