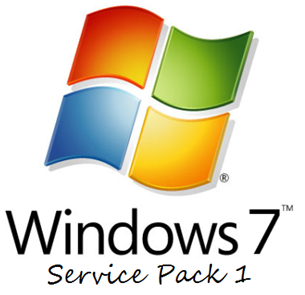 Microsoft has released the Windows 7 Service Pack 1 Release Candidate to testers, available as a free download from Microsoft website. Microsoft initially released the Windows 7 and Windows Server 2008 R2 SP1 Beta(update KB976932) in July 2010. With the release of the Release Candidate (RC), Microsoft is gearing up for the final release of the Windows 7 SP1 which is expected to happen somewhere during the beginning of 2011. Now that the Release Candidates for both Windows 7 and Windows Server 2008 R2 SP1 are available for download, those who have already installed the beta versions of the Windows 7 and Windows Server 2008 R2 Service Pack 1 must uninstall the same before going ahead with installing the SP1 RC. Please note that you must have an RTM (Release To Manufacturing) version of Windows 7 or Windows Server 2008 R2 installed on your PC before you can install the Release Candidate.
The Release Candidate includes the previous updates that are delivered via Windows Update along with continual updates to Windows 7 and Windows Server 2008 R2 operating system platforms.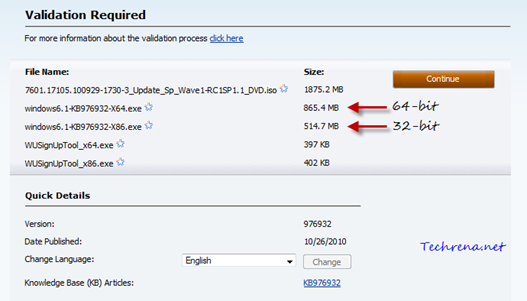 The download size for Windows 7 SP1 RC  (build version 976932) for 32-bit version is 514.7 MB (windows6.1-KB976932-X86.exe), where as it is 865.4 MB for the 64-bit version (windows6.1-KB976932-X64.exe) of the OS. You need to validate your Windows before you can proceed to the download page.
Download Windows 7and Windows Server 2008 R2 SP1 RC