Microsoft has just released a new update KB979538 to address issues with Windows 7 while using a USB video device. The issue may include unexpected shutdowns or bluescreens while using the USB video device.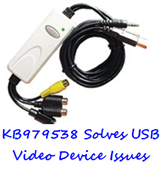 The issues with USB video devices arise because of a race condition in the USB Video driver when the device is unloaded. If you didn't know, Microsoft had already released a Hotfix to solve the issue for those Windows 7 machines that were severely affected by the issue. But now Microsoft has decided to release a software update that can be applied to all the Windows 7 machines irrespective of the issue with the USB Video device being small or severe.
Find the download link below to download the Windows update file called "Windows6.1-KB979538-x86.msu", 336 KB in size. Restart the computer after installing this update.