Windows Process Security is a freeware which can be downloaded free of cost from sourceforge.net. The details are given below.
Windows Process Security is a security tool that shows comprehensible information about programs and processes running on your computer and identifies the potential threats running on your computer. The program consist on unique security risk rating for processes and ability to remove 130000 threats. Windows Process Security indicates the likelihood of a process being potential spyware, malware or a Trojan.
A regular Update of the the threat database is required for optimal performance. The update can be directly performed from Windows Process Security 1.0 Application and is free of cost.
The user interface is quite simple. You can see all the safe and and unsafe processes. If any threat or unsafe process is found you can terminate the process, fix the problem and go to the containing folder to delete the threat. A screen shot of the application is given below.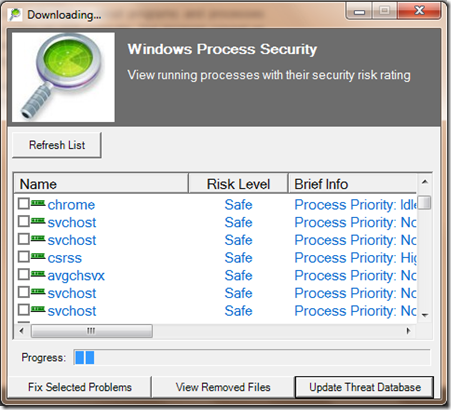 Windows Process Security 1.0 can be downloaded from the link below:
Download Link: Windows Process Security 1.0
Size: 3.4 MB
Operating System: Windows 98/Me/2000/XP/2003/Vista/Server 2008/Windows 7/NT
Released on: 28-03-2010