As Mozilla has made Firefox 4 Beta to be available publicly. My Firefox lovers have already downloaded it and managed to get a first look of what's in store for the upcoming Firefox 4. Whie we still learn about all the major and minor features introduced in Firefox 4, we thought we would share this minor and handy feature that may interest you. This feature is called "All tabs preview". It is similar to taskbar-tabs preview, but built right into the Firefox without needing to install additional add ons. By default this is not active in Firefox 4.0, but you can always activate it by following the steps briefed below:

Steps:
1. Type "about:config" in your Firefox address bar and press enter.
2. Accept the warning that you get under "This might void your warranty". Click on "I'll be careful, I promise".

3. Now type "browser.allTabs.previews" and look for a entry with the same name (Preference Name).


By default, this has been set to "false" which disables the All Tabs Preview feature in your Firefox 4. To enable this, double click on it or right-click and choose "Toggle", change the value to "True". Close the about:config window.
4. You can now spot a new "List All Tabs" icon at the top right hand side, just below the close icon of your window. click on the icon to see the preview of all the opened tabs of your Firefox.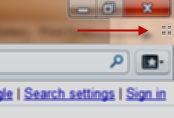 To disable this feature, go back to the third step and change the value of browser.allTabs.previews back to "false".
Tip: Learn how you can run two different builds of Firefox on the same computer.