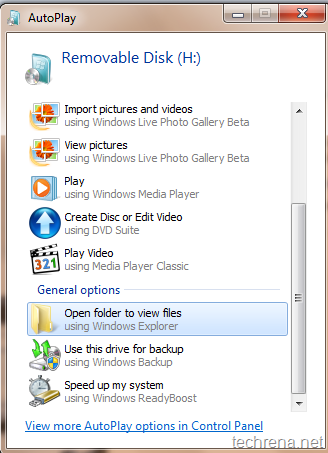 We are here with yet another tutorial.In this tutorial, I'm going to discuss about how to disable AutoPlay in Windows 7 and Windows Vista.[AutoPlay for CDs/DVDs and AutoRun for USB flash drives or for any removable flash drives.]
AutoPlay (and AutoRun) is disabled by default in Windows 7 and Vista.That's why Windows gives you an option to choose the possible actions that you  can take without directly playing the DVD in media player.Start reading the following tutorial to learn how to enable or disable AutoPlay .
Tutorial: How to enable/ disable AutoPlay

Covers: Windows 7/ Vista

User level: Intermediate

Complexity: Easy
1. Go to Control Panel, and choose "Hardware and Sound" options.
Under AutoPlay, click  Play CDs or other media automatically.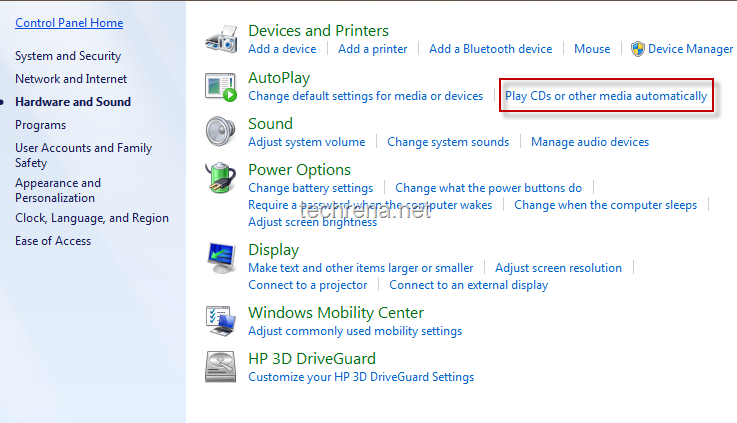 2. Now AutoPlay options window will open.Under uncheck under "Choose what happens when you insert each type of media or device" to completely disable AutoPlay globally for all types of devices.
3. If you want to disable AutoPlay for particular devices like  DVD movie instance, select the "Take no action" under the DVD Movie options.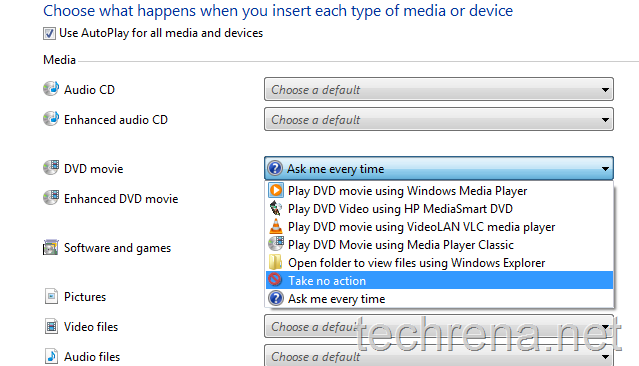 Likewise you can also configure auto play for USB devices and other plug and play devices.
Using Group Policy Editor [For Business/ Ultimate Editions] :
This methods works only for Business and Ultimate versions of Windows 7 and Windows Vista.
Go to run command by pressing Start button + R.Type gpedit.msc in the text field and click OK.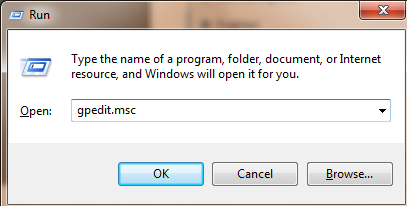 From the Group Policy Editor window, navigate to Computer Configuration\ Administrative Templates\ Windows Components\ Autoplay Policies\ Turn off Autoplay, you will see the "Turn off Autoplay" window as in the screenshot.
To enable the AutoPlay, just change the value of "Turn off Autoplay" to Disabled.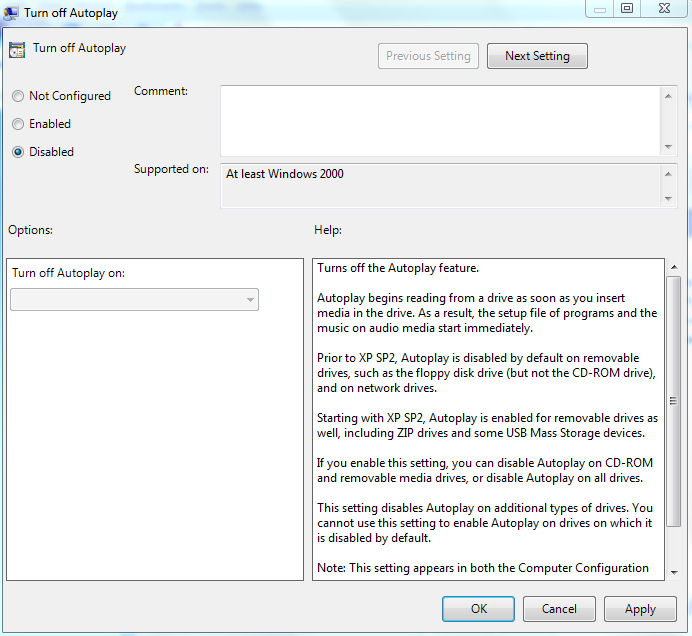 If you want to completely disable the AutoPlay for all types of devices for default, change select the value Enabled under Turn off Autoplay.