Gmail is the popular mail service that is being used by huge number of users worldwide.Google (Gmail) always warns users about keeping a stronger password for their Google account, since if the hijacker manages to get your Gmail password, he can virtually access all the Google services associated to that account.
The point to make note here is that the mail services are the most hugely attacked services by the Hijackers/ hackers around the internet.So it is all our responsibility to ensure more safety to it by setting up a stronger password and not revealing this password anywhere else and to anyone else.
But sometimes, your account gets hijacked even without your notice and all your private data gets exposed.Well, they always say "Prevention is better than cure" which aptly sits here.
If your account gets hacked, there won't be much details available so as to find who the real culprit is.However, Gmail team has come up with an option to display though which agent your account has been accessed (ex: browser), along with the country from where it was accessed (IP address with country name).
To see from where your Gmail account has been accessed in the recent few days, go to bottom of your Gmail inbox, where you can find "Last account activity" section.Click on the "Details" link to see IP addresses of the computers from where your account has been accessed.

If Gmail finds any unusual/suspicious activity in your account (meaning that somebody is illegally accessing your account possibly accessing from a country where you have never been !!) it warns you change your password immediately (see the screenshots below).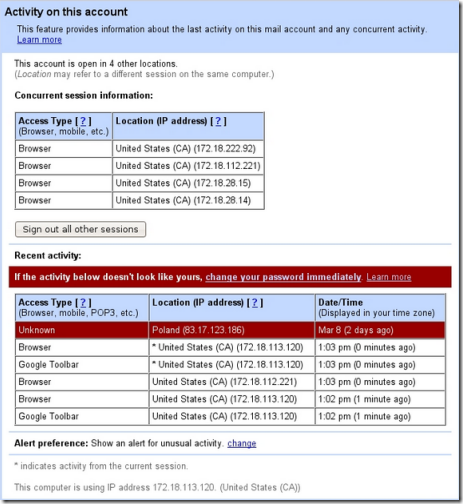 So if you are at anytime concerned over your Gmail account being hijacked by someone, probably this is the first thing you should do : Open the recent activity details accessible from the bottom of your Gmail page and check out for any suspicious access of your account.
How many of you have seen "Suspicious activity" alerts in your Gmail ? Let us know through comments..