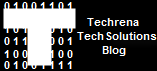 Ever since we have launched this blog, we have been striving continuously striving to helping you out in your day-to-day computer and internet use.We have recently celebrated first birthday anniversary of techrena.net jubilantly on March 27, 2010 at Hyderabad.
As we grow our blog, it's our first priority to make it easy for our readers to connect with our blog in all possible ways.You can either subscribe to our RSS Feed (or receive via email), you can follow Techrena on Twitter or on FriendFeed or on Google Buzz.
If that isn't enough for you, we have just created a Facebook page, adding which to your profile makes it much easier to connect to Techrena.net directly from your Facebook profile.Just click on the "Like" button that you see on our Facebook and you are good go to.Alternatively you can also find a Facebook Like Box apperaing on the sidebar, where you can find the Like button along with the number of connectors to the site right now.See you all on Facebook !