If you have been using Mozilla Firefox for sometime, you will definitely love the was how Firefox makes it easier to add and manage all of your bookmarks.You can always access your bookmarks easily from the bookmarks menu present in the Firefox.If you need to open a particular webpage from your bookmarks quite often, you may wish you have a better way to open it more quicker.Well, you can do this via a a feature "Bookmark Keywords" available in Firefox.You just need to assign some short keywords, typing which in the address bar immediately gets resolved to your original webpage URL that is stored under your bookmarks.Follow these steps to know how to assign bookmark keywords in Firefox.
1. Open the particular bookmark for which you want to add keyword from the Bookmarks menu.Right click on the "Properties" tab.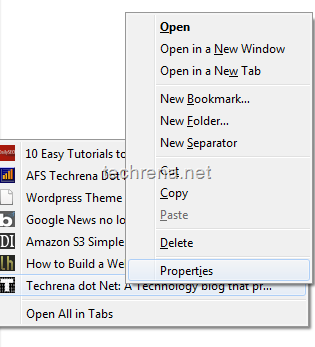 2. In the properties window, add the keyword through which you want to access this bookmark in the filed "Keyword" and click save.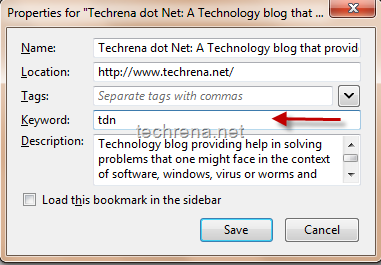 3. Once you have saved this, you can access this particular webpage by just typing the keyword ("tdn" in my case) in the address bar.

That's it, access your favorite bookmarks more quickly using this.This is actually not a new feature in Firefox, it has been there for a while in Firefox but for some reasons this is still not very much used to that extent by the users.