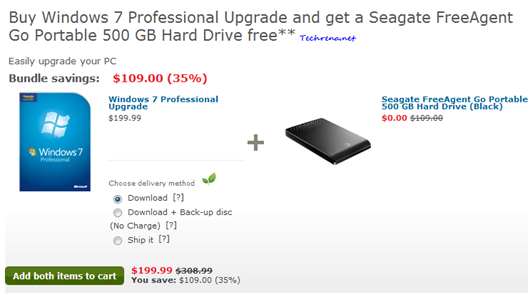 Microsoft is offering a free Seagate FreeAgent Go Portable 500 GB Hard Drive with every purchase of Windows 7 Professional Upgrade. You can buy both these items at a discounted price of $199.99. If you purchase the same Seagate 500GB hard drive independently, it would cost you $109 alone. It's really worth a deal and if you are running a licenced version of Windows XP or Windows Vista and plan to upgrade to the latest Windows 7 (includes both 33-bit and 64-bit versions), it is the right time to go for it.
This is a limited period offer and is valid till the supplies last. So hurry up! visit this Microsoft Store page to download or order the Windows 7 Professional Upgrade now.
For any queries, you can call the Microsoft toll-free number (United States) at 1-877-696-7786.