Planning a long journey to a place where you never had been in India? or just visited a big city like Mumbai and want to reach your relative's house with minimum time of travel or with minimum fare that you can give to the cab. Now you no longer worry about this, as Google Maps India has just launched this new feature "Get Driving Directions" for Indian road routes.

Apparently, Google Maps is not the first one to introduce Driving directions for maps in India ,it follows Yahoo India maps and Live Maps India to add this feature.
Google Maps directions for Google Maps India is much similar to Yahoo India Maps and Live Maps India.You just need to enter the starting point and the destination.
Comparing Google Maps, Yahoo India Maps and Live Search Maps India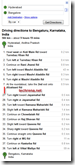 I wanted to just compare these three services (Google Maps, Yahoo India Maps and Live Maps India). In my case I tried to get driving directions for journey between Hyderabad to Bangalore (the two major IT cities of India, of course).
The results:All the three services showed a similar distance (Google-566 Km, Yahoo-572 Km, Live Maps-572 Km).All three were also similar in terms of number of turning points or intermediate stations –Google –38, Yahoo- 35, Live Maps-34 ).
But they varied considerably in terms of time of travel.Google showed about 9 hours 19 minutes , Yahoo -12 hrs 24 mins and Live Maps India-10 hr 51 min.