There seems to be URL shortening competition going around the web off late.Every one is going crazy about shortening those looooong URLs, thanks to twitter.
Now it's Google turn, Google has launched 2 such URL shortening services.
1.Goo.gl :
Goo.gl service has been launched for Google Toolbar and FeedBurner.Just install latest Google Toolbar for Internet explorer to be able to use this.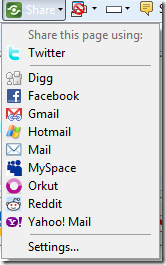 As shown in the above screenshot, the shortened goo.gl link can be shared with your friends in various social networking services.
Creating Goo.gl links Using Firefox
But as of now there's no such option in Firefox version of the Google Toolbar.But still, there is a Firefox extension which will do the same for you without installing the toolbar.
Goo.gl Bookmarklet:
(Thanks to Matt for this Bookmarklet)
Goo.gl This  <goo.gl bookmarklet link with prompt for copying
Just drag it to the your bookmarks in case of Firefox, Safari, Opera(?) or just add it to Favourites in case of Internet Explorer.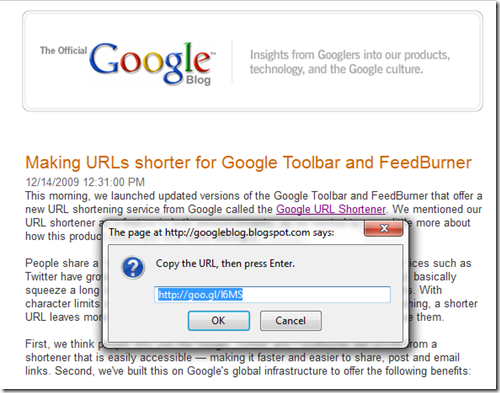 Video:Google Toolbar with Share
2.Youtu.be :
If Goo.gl isn't enough for you, there's a new dedicated URL shortening service Youtu.be which shortens the YouTube URLs whenever you favourite a video using your YouTube account.
Using Youtu.be Manually:
Replace the "http://www.youtube.com/watch?v=" with "http://youtu.be/"
Or just copy the video-id (the string after '?v=' in the YouTube URL) of the video(cebbvcMW5Uo in this case) and paste it after 'youtu.be/' part.
Example:
http://www.youtube.com/watch?v=cebbvcMW5Uo
Facebook too is getting into URL Shortening service with 'fb.me'
Happy URL shortening folks…