We have been constantly writing about Google Buzz ever since it was announced last week.
We had mentioned how to test it before starting to use it in Gmail, we had written about the Google Chrome extension for Buzz that displays your buzz notifications without needing to open Gmail in new browser windows or tab.
And most recently we have come up with the tip to How to Completely disable Google Buzz from Gmail,
Tip #1.And today we are covering one more tip about Google Buzz, not actually a tip but we are talking about a desktop application for Google Buzz called "Google Buzz Desktop" (GBD).
GBD is based on Adobe AIR platform, installs and works smoothly.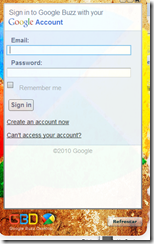 Features:
* Updates every 2 minutes
* Emulates iPhone version of Buzz on desktop (Like mentioned here)
* Works on any platform/browser.
Tip #2 You can also create your own desktop application as a Site-Specific Browser (SSB) app for Google Buzz.There's a guide at mashable (using Prism) on how to do it.But actually it' creates SSB web app for Gmail not Buzz alone.This tutorial isn't just for Buzz alone, you can create SSB apps for any website that uses cookies for login info and you want to simultaneously use multiple accounts at the same time.