We had earlier posted about Google buzz counter buttons for websites.
Google has today announced the official Google Buzz share buttons for websites.The unofficial buttons that we have been using till now are created based on Google reader.As Google raises the point correctly, not every Buzz user uses Google Reader nor not every website owner is so tech savvy to implements hacks for using Buzz buttons.
Many sharing platforms including ShareThis , Meebo, Shareholic, AddThis and AddtoAny have added buzz in their sharing services list.
Get'em :
If you are a webmaster and want to get Buzz button widgets for your websites, visit this page and configure the buttons for use and copy-past the JavaScript in your site where you want them to  appear.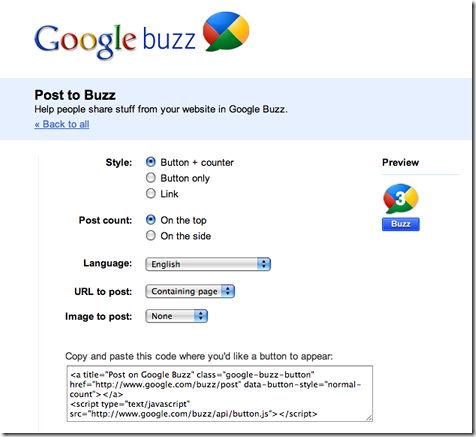 Follow Techrena: