As a website publisher we always want more number of advertisers to compete for a slot in our website, the higher the competition the more beneficiary it would be for us.What if advertisers from different ad networks compete for a ad slot in your site ? It would be great, isn't it ? Adsense , from now on will provide this platform.
Google Adsense has just announced the expansion of Google-certified third-party ad networks to all the Adsense publishers (which was initially available to the publishers in North America and Europe.
How To Allow / Block Google Certified Ad Networks In Adsense ?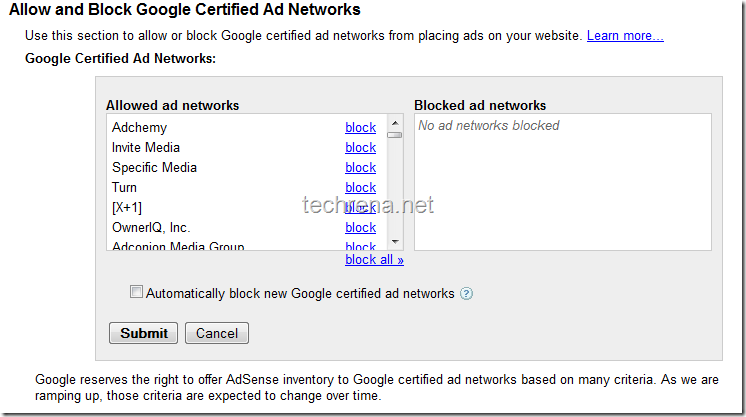 Just visit Ad Review Center under Adsense Setup tab in your Adsense, find this option Allow and Block Google Certified Ad Networks, and click "Change" to see the whole list of ad networks currently allowed for your website.You can find option to block each ad network individually or choose "block all" option to completely block all the ad networks.Check out the list of currently Google certified ad networks available.The list is huge but it will only get bigger as Google says that they are continually adding new ad networks which the publishers can see in their Ad review centre.
List of Google-certified ad networks currently supported in Adsense:
Adchemy
Invite Media
Specific Media
Turn
[X+1]
OwnerIQ, Inc.
Adconion Media Group
Adtegrity.com
AudienceScience Inc.
Dapper Inc.
Dedicated Media
FetchBack
LucidMedia
NetSeer Inc.
NextAction
QuinStreet, Inc.
ReTargeter
RichRelevance, Inc.
Teracent Corporation
ValueClick, Inc.
Aggregate Knowledge
Atrinsic
Brand.net
BrightRoll
Chitika
Collective Media
CPM Advisors, Inc
DataXu
Datran Media
Dotomi
Efficient Frontier, Inc.
InterCLICK
Media6Degrees
MediaMath
OpinMind
Quantcast Corporation
Rocket Fuel Inc.
Semantic Sugar, Inc.
Sooth Software Corporation (dba AdBuyer.com)
TellApart
Traffic Marketplace
Triggit
Acxiom Corporation
Advertise.com
Ad Pepper
AdReady
AOL Inc
Xtend Global Media LTD
Goodway Group
Innovation Interactive
Cyberplex, Inc
Didit
Announce Media
Media Innovation Group
VivaKi
AppNexus
Epic Advertising
AccountNow, Inc.
People Media, Inc
Bizo
EchoSearch
MaxPoint Interactive
Mpire
Pinnacle Dream Media
Pulse 360
Radius Marketing Inc.
Reply! Inc.
Criteo Europe
Criteo UK
Infectious Media
The Exchange Lab
Mixpo
Mexad
Adpepper Germany
ClickDistrict NL
DSNR
Hurra Germany
Criteo US
Cossette Communications
Pennyweb, Inc. (DBA Ybrant Digital)
Spongecell
OpenX Technologies
Red Aril, Inc.
Redux Media Inc.
ShareThis, Inc.
HTTPool
DQ&A
Mediaplex
Veremedia
ValueClick International Ltd
Struq Limited