Google has today launched the "Google Dashboard" which consists of summary of the all the Google products that a the user is using.
[ Visit http://www.google.com/dashboard/ to check your own Google dashboard.]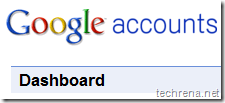 Alma Whitten, adds in a post in the official Google blog,
In an effort to provide you with greater transparency and control over their own data, we've built the Google Dashboard. Designed to be simple and useful, the Dashboard summarizes data for each product that you use (when signed in to your account) and provides you direct links to control your personal settings.
[Dashboards are very common right? like WordPress dashboard, Blogger dashboard etc. it's much like a control panel for your own data.]
Google Dashboard has been built to offer greater transparency and control over the users own data, according to Google.
At present Dashboard includes more than 20 Google products like Gmail (last sent mail, received mail, last chat conversation etc.) ,Docs, Web Search History, Orkut (Last scrap received, Scraps To Friends, Albums shared), YouTube, Calendar, Picasa, Talk, Reader, Alerts, Latitude etc.
Google claims to be the first internet company to offer something like this Dashboard to let the user have all his data at one place for a quick review.

Watch Google Dashboard introduction video :
Watch Google Dashboard Video