Google Friend Connect made its debut to WordPress.Google Friend Connect was previously available only to Blogger blogs through a simple gadget (although you can insert in any other non-blogger sites). Now there's a more simpler way to this for WordPress , thanks to Mauro Gonzalez, Globant who developed this FriendConnect plugin  plugin to extend GFC to WordPress blogs.
He adds in a guest post in Google Social Web blog,
This plugin allows your visitors to authenticate using any OpenID account such as Google, Yahoo, or AIM and then comment on your posts with no need to complete a registration form.
Now, Let's see how to setup Google Friend Connect for your WordPress blog:
Step 1: Go to google.com/friendconnect and add your new site details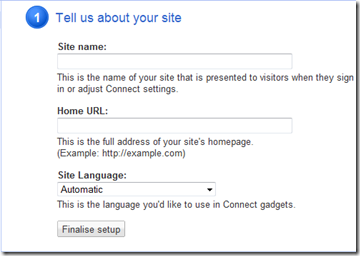 Step 2: Once you have added you blog's details, find your unique site ID of your site and note it down.

Step 3: Download Google Friend Connect  WordPress Plugin and upload it to plugins folder in your WordPress installation.
Step 4: Under Settings in your dashboard visit 'FriendConnect' to configure that plugin.
Enter your site ID in the filed Google FriendConnect ID: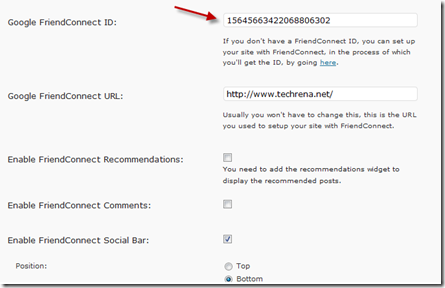 Step 5: You can customize the GFC using various colour schemes.
Step 6: If you want to add various GFC widgets, visit widgets tab, you'll find the widgets like
'GFC Members', 'GFC Recommendations' & 'GFC Site Wide Comments'

you can also try out various possible settings under them to find out which one best suits your blog.