Google India Search Quality team has called for a very interesting campaign called Google India Site Clinic, this is a real chance for webmasters to get their site assessed by Google Pros.
According to the campaign plan, interested webmasters can submit their websites to the Google Site Clinic.The Search Quality team will analyze the websites submitted and will provide advice on improving the accessibility and other factors that will in turn affect the visibility of your website in Google search results.
The Requirements:
If you are the owner of the website that you want to submit to Test Clinic, you must first have a verified Google Webmaster tools account associated with your site(If you haven't yet, get an account from this page)
The website to be submitted must be in accordance with the Webmaster quality guidelines.
The Dates:
The Site Clinic will accept websites for analysis from Jan 6, 2010 to Jan 20, 2010.
The Benefits:
You get a chance to get your website reviewed and hear suggestions right from the Google employees.After all who else can give you better suggestions to make your website more Google friendly than the 'big G' guys??
If your website is worth for showing other sites to follow, your site may feature as an example in the future posts of Google India blog under Site Clinic campaign.
The Procedure:
To submit your website for Site Clinic, just fill out this Google Docs form.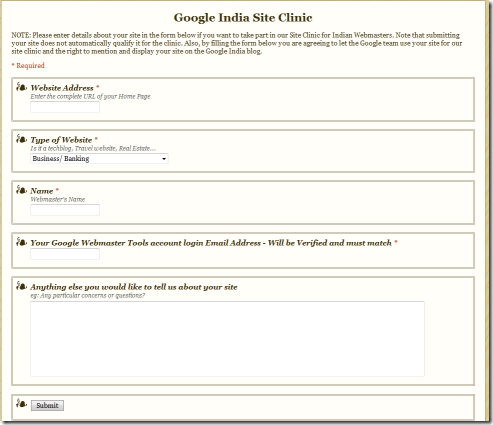 If you like this post, you may subscribe to out blog posts RSS feeds and get the latest posts delivered right into your email.