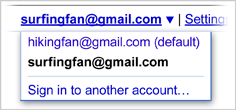 If you use Google products a lot and that too with different logins (may be one for personal use and other for business purpose etc.), you would be knowing there's absolutely no way to use both accounts on the same browser. Until recently you need to go through some workarounds or use another browser and keep switching between the two windows often. Times have changed, Google has listened to users like you and enabled this glorious multiple sign-in feature for selected Google products.
You wouldn't even be knowing that such a feature exists until you open your Google account settings page. This tutorial explains you how to enable and use Google multiple sign-in feature for your account.
To begin with, visit Google account settings page,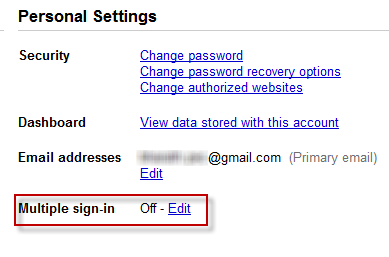 Find a "Multiple Sign-in" tab under your personal settings, by default this feature would be set to "Off", click on the "Edit" link to change the multiple sign-in settings.
You will be taken to multiple sessions page,

You need to read and understand the four aspects listed there (as shown in the screenshot) before adding a "check" to each one after which you can enable the Google multiple accounts feature. After you checked the each option, the "save' option would be enabled. Click on it to save the settings and enable the multiple sign-in feature.
Now the Google multi-login feature gets enabled for you. Open any multiple sign-in supported Google product page(ex: Gmail) and you can figure out a drop down menu next to your Google account username. Click on it to see "Sign in to another account" link and click on it.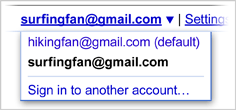 You can sign in up to two additional accounts (so in essence, you can simultaneously access up to three Google accounts, while the first being your default account) and you can also open the same product in multiple tabs with different tabs.
Please note that the multiple sign-in option is currently available to only few products listed below and also it is not fully supported for use with Offline Gmail and calendar , for the same reason you wouldn't want it to enable yet if you use offline Gmail.
Multiple-sign in feature supported Google products:
Code
Calender
Gmail
Reader
Sites
Voice
Docs
If you want to use multiple sing in with other products, you still need to either use tricks like using private browsing mode in supported browsers or use another browser as you have been doing all through.