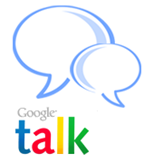 Google Talk is quickly overtaking the Yahoo and MSN when it comes to instant messaging (IM). Lots of people are using Google Talk either through their native desktop version or the Gmail version of the talk client. With many features like video chat made available to the users, Google Talk is one IM client that has gained lot of popularity among the users. But not so many option to format text unlike Yahoo Messenger and other IMs is a let down for Gtalk users. But Google talk do have some lesser known  formatting styles that are in my honest opinion sound a bit difficult to implement as these have to be used manually by typing rather than to be able to select by a mouse click like in other popular IMs. Here we are listing down all the possible styling tips that you can use while you do a chat with your friends in Google talk.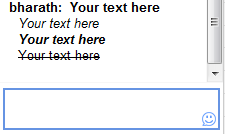 Tip 1: Use Bold Text
To make your text bold during your chat, enclose the text inside "*" (asterisks)
*Your text here*= Your text here
Tip 2 : Use Italic Text
To italicize the any text just enclose it in "_" (underscores)
_Your text here_ = Your text here
Tip 3: Use Bold + Italic Text:
Use
_*Your text here*_ = Your text here
Tip 4:  Use Strikethrough Text
To strikethrough a text in your chat, enclose the text inside "-" (dashes)
-Your text here- = Your text here
Bonus Tip: The good thing here is that you can use all the above tips in your Google Buzz too.
Google hasn't yet made the underline font feature available to the Gtalk users. However, you can suggest the Google Talk team to activate this feature.
If you are an excessive Google Talk user, you will definitely find all the above tips handy.