Now you can easily type text in your own language in a more simpler fashion using Google Transliteration IME (IME- Input Method Editor).Google has officially launched the Google Transliteration IME in fourteen (14) languages, most of which are Indian languages.
[See the complete list of supported/available languages at the bottom of this post]
From now on, you don't need softwares like Baraha, Lekhini or Aksharamala to type in your language.
With Google Transliteration IME, the user needs to download a very small piece of software for any if the 14 available languages and this opens up a the language tool bar for the desired language.Great thing about this is that you just need to type letters in English and it'll automatically translates (or suggests translation) into your preferred language.
You can select the input language from the language tool bar as shown in the screenshot below: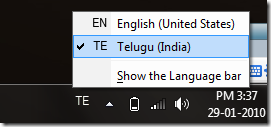 Now open any application (ex. notepad) and type in English and you can see the word being translated to your selected language or showing list of possible words with your input.
[Here I have used Telugu as the input language, by downloading Google Transliteration IME for Telugu]

The same procedure can be followed  for other languages too.

[Sorry folks, I know only Hindi and Telugu other than English 🙁 ]
Download Google IME (For Windows XP, Vista, Windows 7 , 32-bit only)
Supported Languages:
Arabic,
Bengali,
Farsi (Persian),
Greek,
Gujarati,
Hindi,
Kannada,
Malayalam,
Marathi,
Nepali,
Punjabi,
Tamil,
Telugu,
Urdu
You can also use bookmarklet to directly type in your language in your web browser, which I'll cover in a later post.For now, you can read about Transliteration feature in Gmail.