Google has launched Google Search by Voice Application for Nokia S60 phones, which are hugely popular around the globe.
The new version of Google Mobile App for Nokia S60 phones which cover most N-Series and E-Series phones, when installed, places a a shortcut to Google search on your Nokia phone's home screen.This allows you to search either by voice or by typing.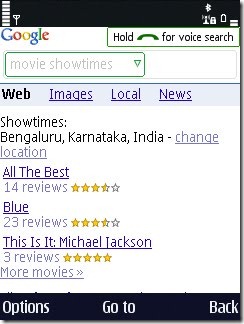 [image: Official Google blog]
Also, the Google Search by Voice has been extended to support Mandarin Chinese.This means that Chinese users can just say the keyword they want to search and it will do come up with Google search result in a blink.
Note:To download the latest version of Google Mobile App directly from your Nokia S60 phone, visit m.google.com from your phone's browser