Worldwide recession in this year has taken on a toll on the common man in India, it is evident even on the data released by the 2009 Google Zeitgeist for India (zeitgeist — the spirit of the times).
Google has prepared this putting together data from all the billions of anonymous search queries from Indians.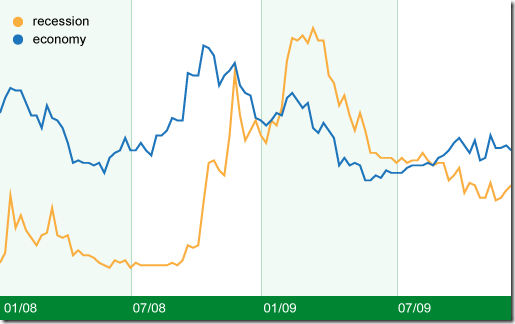 Take a look at the above chart, the recession effect is clear during the end of 2008 and it has reached to it's peak level around the first quarter of 2009 before just starting to dip from the second quarter of 2009.
A Look Back @ 2009
Below are the list of the popular searches/topics on the Google among the Indians.
'Budget 2009' has been the fastest rising search term in 2009, it can be attributed to the anticipations if the people waiting for tax reductions in the recession hit economy.While the movie 'Kambaqt Ishaq' takes the next position, IRCTC is at #3 as more people found it to be easier to book railway tickets from their PCs.'Satyam share price' is at #4 as it has reached to lowest Rs 6.50 at the NSE earlier this year.ISRO's own Google Earth like Bhuvan definitely made the Indians interested so as general Election results 2009(#8) of April-May.Other major incidents included the death of Michael Jockson(@ #6), the launches of Windows 7(@ #9),Nokia 5800 (@ #10).Twitter managed position #7.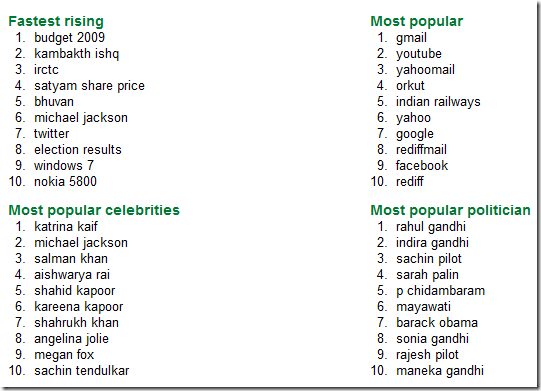 3 of the Google's services have made it to the most popular searches of 2009: Gmail (#1),YouTube(#2),Orkut(#4).
Katrina Kaif managed to stay back at #1 spot in the category of Most popular celebrities as she did in last year too.She is placed ahead of Micheal jackson(#2), Salman khan(#3), Aishwarya rai (#4), Shahid kapoor(#5), Kareena kapoor(#6).
Rahul Gandhi, as a youth leader of congress is undoubtedly the most popular politician on Google India, also in the list is another young MP from Congress, Sachin Pilot.
Love Aaj Kal(#1) has been declared as the most popular movie on Google India, followed by Harry Potter(#2), Slumdog millionaire(#3)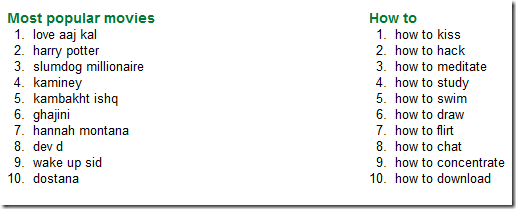 How-Tos of Kissing, hacking, Meditation etc. have been popular in the year 2009 among Indian users.
For complete list and other details, please visit 2009 Google Zeitgeist India page.