Finally, the boss is here.Google nexus one, which has been receiving huge attention world wide, (thanks to the leaked pictures,documents and videos on the web) has been officially announced.
The phone runs on the latest Android 2.1 software.The phone is made in collaboration with the hardware support from the mobile phone manufacturer HTC.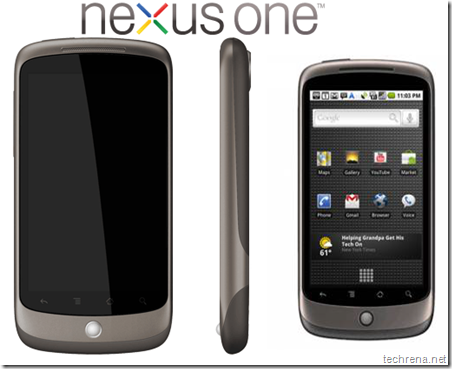 The most appealing features of the phone include:
A 5 Megapixel camera (With Auto-focus and LED flash)
Qualcomm QSD 8250 1 GHz Processor
3.7-inch (diagonal) widescreen WVGA AMOLED touch screen
Wi-Fi (802.11b/g/n)
Assisted global positioning system (AGPS) receiver
512MB RAM & 512MB Flash Memory
Audio playback up to 20 hours
Up to 10 hours Talk time on 2G
Expandable storage memory up to 32GB (4GB microSD card included)
Tri-color clickable trackball (with notification LED-alerts you whenever new text messages/chats/emails arrive)
Pricing: The prices are the same as we have seen in the leaked documents
$ 529 Unlocked Version Without Service (Can be used with any GSM network)
$ 179 With Two-year contract from T-Mobile
With 1 GB processor included, the phone provides much faster multitasking environment, allowing you to seamlessly switch between the various applications.Google has already made available the following popular web applications into the phone  in-built.
Google Maps Navigation
Gmail : Can access multiple Gmail accounts
YouTube
Google Voice
Google Talk
Cooliris Gallery (With 3D interface)
Android Market : Access to huge number of other Android applications
ORDER ONLINE:
To purchase Google HTC Nexus One online, navigate to http://www.google.com/phone