Tracing IP address of the email sender in Gmail:
Finding out the IP address of the sender is the first step that you may have to do if you want to the find the information about the person who has sent you the mail.This IP address information will normally be included in the email headers.
Let's see how to find the sender's IP address in the email message headers in case of Gmail:
1.Log in to your Gmail account.
2.Open the email message for which you want to find headers.
3.Click the down arrow next to reply in the right hand side of the message.(refer the image shown below)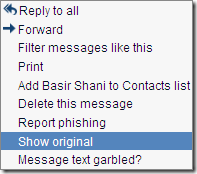 4.Select the "Show original" from the list.
Now a the original message with full headers will open up in a new tab/window.
Now search for the string using CTR+F  "Received: from" from bottom to up.The first one that you find (from the bottom) should have the IP address of the sender and it should like like the one shown below.
  Received: from [202.47.69.86] by web76702.mail.sg1.yahoo.com
So here, the IP address of the sender is 202.47.69.86, and using Who is Look up, it can be easily found out that the email has been originated from Indonesia in this case.
However this method (to trace IP )  doesn't work for the emails that are sent from another Gmail account.