Adding Inline Images in Your Gmail
Gmail labs today has announced a feature which allows Gmail users (Only those who enable this feature in Lab Features under Gmail) to insert images while composing mail in Gmail.It was a major development at Gmail but nobody has any idea why Google hasn't enabled this feature by default to all Gmail users.Anyway take a look at how actually you can add images in your mails.
First Click on the tiny Gmail Labs button in Green towards left-hand side of your browser.[If you have already been using Labs features, else you have to go to Settings>>Labs]

Then a list of Gmail labs features available will be shown to you.Look for the following feature called "Inserting Images"

Now enable that feature.
Start composing a mail now, in your rich text editor, now you may find a small image button which allows you add images (see in picture).

Now you can either upload image from your desktop

That's it now your image will appear in your mail (see the sample image in picture)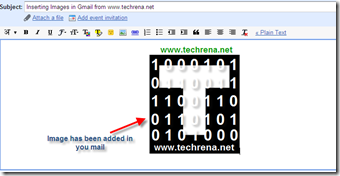 Note:The recipients may not the images in your mail as by default Gmail will not display images from mails so as to to prevent from spam.So the recipient must either click on "Display Images Below" or "Always Display images from…" to see the images that you have inserted in the mail.
This is the latest improvement at Gmail after last week's addition of Five Indic Languages in Mail composer.