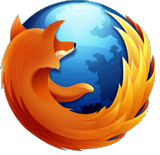 "How I can run two (or multiple) versions of Firefox on my computer?"
This is the common questions asked by many of the Firefox, especially web developers who need to test their applications in various versions of Firefox.
It also might be a case that you liked an earlier version of Firefox and just want to run it as the secondary version (it's always recommended to run the latest updated version to avoid any security risks).
While this question has no absolute solution, I'm posting a tip that at least gives us a chance to run two different versions of Firefox (but still won't serve the purpose fully).
Update: Read How To Run Two Different Versions Of Firefox On The Same Computer, the updated version
One way we can two different versions of Firefox is to install and use a Portable Edition of the Firefox. Just install the version of the Firefox that you want to use on portable device, install it on your USB flash drive. Plug it in and start using the portable version. However you please note that you cannot run these two versions simultaneously. Supposing that you have installed a new Firefox v3.6 on your PC and a portable version 2.0.0.20 on your USB disk, if you are running Firefox v 2.0.0.20 from your USB and you click on the Firefox icon shortcut to open a new window, you will be surprised to see that it's the v2.0.0.20 that runs and not v3.6 and vice-versa.
Download Firefox Portable Edition