"Windows Explorer has stopped working.
Windows is searching for a solutions
Windows Explorer is restarting "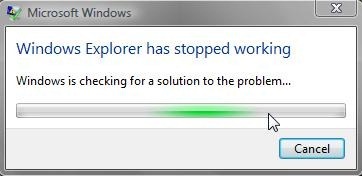 The most annoying errors that keep popping up in Windows 7 too many times (I already had enough of them).Normally this error could occur possibly due to missing/corrupt files in windows explorer window.Windows 7 team has had a serious look into this mess and they have decided to release April 2010 stability and reliability update KB980408 exclusively to fix these frequent windows explorer crashes in Windows 7 and Windows 2008 R2.According the release the update KB980408 fixes the following issues:
Windows Explorer crashes and restarts while accessing a third-party Control Panel item.
Issue that affects the connectivity with an instance of SQL Server Analysis Services from any application in Windows 7 or Windows 2008 R2
Windows Explorer stops responding for 30 seconds whenever a file or directory is created or renamed after installing some programs
Welcome screen hanging for 30 seconds while logging into the computer, if you had set the desktop background to a solid color.
You don't get any warning when you try to delete more than 1000 files and all the files gets deleted permanently without moving to the Recycle bin.

If you have experienced any of the above issues in your Windows 7 machine, you must download the update KB980408 from the download links below.

Download Links:

The April 2010 stability and reliability update for Windows 7 and Windows Server 2008 R2- Update for Windows 7 (KB980408)

Download size: 5.3 MB

Update type: Important

Released: April 26, 2010

With validation:

Without validation:

Direct download link KB980408-x86.msu for x86 Windows 7

Direct download link KB980408-x64.msu for x64 Windows 7
Link for KB980408 support