At Techrena, we always strive bring the best available tricks for making your life easier.We have been updating our blog off late with lot of interesting windows and internet tips and more.
Today we are coming up with a very easy but effective feature in Windows, adding keyboard shortcuts to the windows programs.This saves a bit of time particularly if you need to open that program too frequently.Just like our last week's tutorial about adding keyword shortcuts to Firefox bookmarks.
Follow these steps to add Keyboard shortcuts to your favorite programs.
1. Right click on the program icon and select "Properties".
2. Find the "Shortcut" tab under the properties.Look for "Shortcut key" under the tab.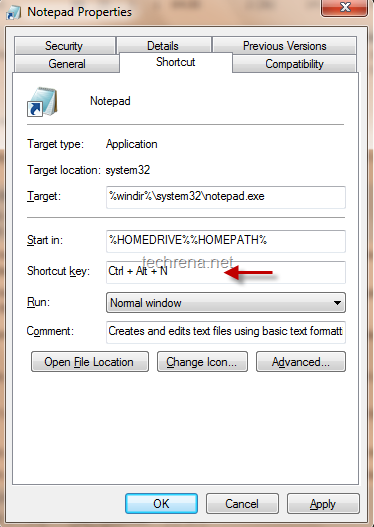 3. Use your keyboard to assign a shortcut key for this program.
4. Click "Apply" and press "Ok".
Now you use the shortcut that you have set to launch the applications directly.In the above case, I have added "Ctrl + Alt + N" to launch notepad.