Kingmax PD-02 USB Flash Drive (Pen drive) :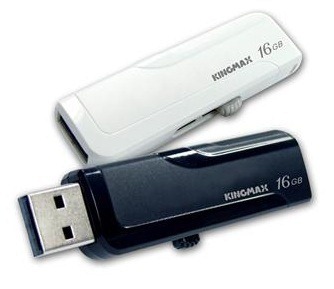 Kingmax has launched new variant of PD series USB flash drives Kingmax PD-02, the advanced version of their earlier Kingmax PD-07.Kingmax has added the slide USB connector ensuring that you don't need to worry about forgetting the cap somewhere and regretting about it later

another improvement is the addition of scratch-resistant surface.Supports READYBOOST technology in Windows 7 or Vista (read how to use READYBOOST).
The device only has USB 2.0 connectivity, should have been making use of USB 3.0, a little disappointment there

.However it's still worth a buy at Rs. 1.7k for 16GB USB stick.
Kingmax PD-02 Specifications:
Dimensions
59.5 x 18 x 9.6 mm
Capacity
2GB/ 4GB/ 8GB/ 16GB
Transfer Speed
USB 2.0 standard
Support
Supports READYBOOST technology in Windows 7/ Vista
Warranty
Five years
Extras
Slide USB connector (no cap)
Scratch-resistant
Light weight
True plug and play
Colors
Black & White
Price: Kingmax PD-02 16GB – Rs. 1700 in India (almost $38)