We all know that Bing, the search engine from Microsoft indexes web pages at a slower rate than most of the other search engines (G and Y !! for instance).
But it's interesting to note that even Microsoft admits the truth about their MSNbot 2.0 which they introduced in November 2009.
Brett Yount, Program Manager @ Bing Webmaster Center replies to the question put forward by an Indian webmaster about only one page of his site being indexed at Bing webmaster community forum.
See his reply in the below screen shot.

It is well known in the industry that MSNbot is fairly slow
It's indeed very much true that Bing indexing is too slow and never indexes a site properly.The good example to quote here would be our Techrena itself.
See these screen shots:
Google shows that it has indexed about 125 pages of Techrena.net

Bing Indexing: Indexed only 9 pages, out of which 3 are sitemaps !! and this has been static for more than 2 months now.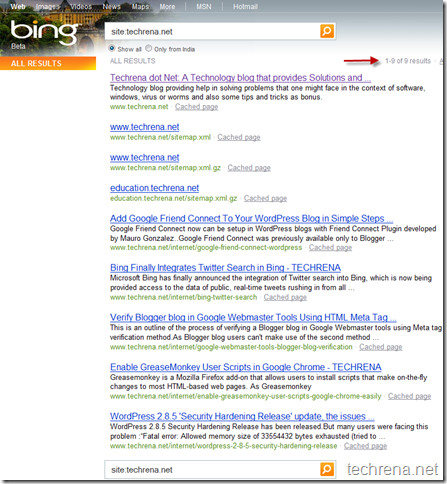 Perhaps it's the time Microsoft should really think about increasing the indexing capability of MSNbot (for including in Bing).Are they listening??
via SE RoundTable