Mozilla has announced the launch of Plugin check webpage intended to check for insecure and outdated plugins of Firefox.At present this tool can check only 15 plugins (do not confuse with Add-ons).This also warns the user when they are not up-to-date and need to be updated.
Right now the Plugin-Check page can only be accessed through Firefox but in future Mozilla is willing to extend this to all browsers.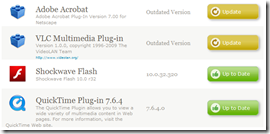 Before this, only Add-ons were being checked for update leaving plugins as such.This lead to emergence of various attacks through those vulnerable outdated plugins, hence it became a primary concern for Mozilla team to identify such plugins.
Firefox 3.6 Beta is set to be launched on the next Wednesday.According to Mozilla team,Firefox 3.6 will warn users when they visit any web site that needs to run on an outdated plug-in.