"YouTube in IE6" May Be History From March 13, 2010:
YouTube has started warning the users using old browsers about it's support for such old version s of the browsers.
As seen on  this YouTube FAQ page, the users using old version browsers will see the following message starting from March 13, 2010:  (And remember Internet Explorer 6 fellows, this one's for you)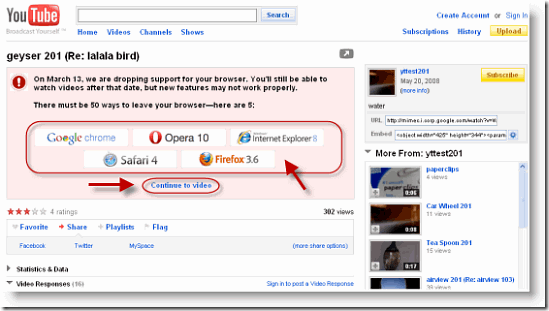 In mid-2009 we started notifying users that YouTube would stop support for certain older browser versions. If you'd like the best YouTube viewing experience, we recommend that you upgrade to the most recent version of your browser.

Support stops on March 13th. Stopped support essentially means that some future features on YouTube will be rolled out that won't work in older browsers.
While they may not stop supporting Internet Explorer 6 completely it says that all the upcoming new features to be incorporated in YouTube may not be supported by browsers like IE6, Firefox 2.0, Firefox for Mac OS X 10.3.9 Panther – version 2.0.0.20 etc.
This applies to the following browsers:
Any browser older than Microsoft Internet Explorer 7.0
Any browser older than Mozilla Firefox 3.0
Any browser older than Google Chrome 4.0
Any browser older than Safari 3.0+