You might be aware of the fact that many of the online video streaming sites like YouTube, Vimeo have started supporting HTML5 videos.
You can watch HTML5 videos if you use latest versions of browsers like Firefox 3.6 or Google Chrome 4.
However if you are still using Internet Explorer (let me remind you folks, YouTube gonna stop support for IE6 from March 13), there's a way you can watch HTML5 videos.That's by using the plugin developed for Internet Explorer by Cristian Adam.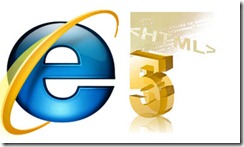 The plugin called Xiph.org Ogg Codec gives an option for users to add support for <video>tag in IE that enables the HTML5 video support in Internet Explorer.
Download the Xiph.Org Ogg Codecs plugin here
You can read more about this plugin here.