PUMA and Sagem Wireless has unveiled the PUMA Phone at the ongoing Mobile World Congress 2010 (MWC). This is an eco-friendly phone that can be charged from the energy of the Sun. Above this, another exciting feature is that it will deliver Live Sports feed through the LIVE SPORT NEWS service from Agence France Presse (AFP) .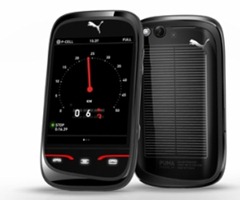 Some of the attractive features include GPS bike speedometer and run tracker, a pedometer, an analogue stopwatch and a yachting compass, along with the back solar panel for Earth-friendly battery charging.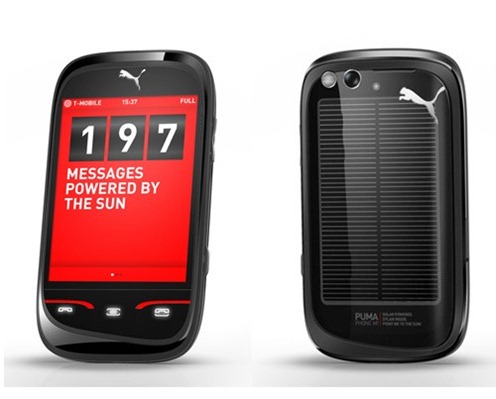 The back side is a Solar Panel For eco friendly charging
This 3G phone has featured new stuffs which are kind of sporty and attractive.  Some of the exciting features are given below:
Feature
Description
Eco-Friendly
Integrated solar cell with charge indicator in the back of the phone
Sporty Features
– Analogue stopwatch
– GPS run tracker
– GPS bike speedo
– Pedometer
– Yachting compass
– Location on map
– Geotagging
– AGPS
Display
2.8" full touch screen tablet, Resolution 240 x 320 TFT Screen, wide viewing angle
Battery
Li-Ion 880 mAh, Standby time 350 hours Talk time:
3G mode: 4 hours
2G mode: 5 hours
Camera
Dual Camera.
Main: 3.2 megapixel camera with LED flash
Video chat with front camera
Music
Music player which supports wide range of formats, FM radio
Connectivity
W-CDMA/EDGE/GPRS/GSM connectivity, Bluetooth 2.1 and USB 2.0,
3.5 mm audio jack,
HSUPA Cat. 4 (up to 2.9 Mbps)
HSDPA Cat. 8 (up to 7.2 Mbps)
Memory card
microSD
Accessories
Eco friendly Box with which the phone and its accessories can be carried
The LIVE SPORT NEWS content from AFP will be available through the PUMA WORLD portal from May 2010. The PUMA PHONE will be available through mobile network operators across greater Europe and on PUMA online store from April 2010, following the international markets like India, Japan, China, USA, Canada.
If you want to see the detailed features of the phone, please see the document from the official website pumaphone.com given below:
Click Here PUMA PHONE TECH SHEET.PDF
The price of this phone has not been announced yet. Once the price is announced, we will update it as soon as possible.