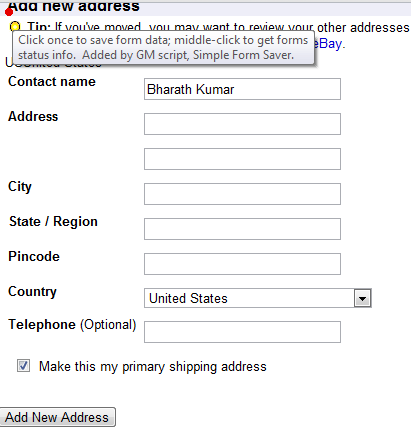 When you are browsing the internet, quite often you need to fill out web forms. Modern day browsers have become more intelligent and most of them offer an option to 'auto-fill' the web form using the data you previously entered while filling out the web form. But then, the in-built browser's auto-fill option (for most of the browsers) is not complete and can easily ditch you when you need it the most.
Thankfully, there are many web form savers available as browser add-ons but  'Simple Form Filler' just beats out the rest in serving the purpose. Simple Form Filler is a userscript that you can install on supported browsers like Firefox, Chrome etc. and it adds a small red dot-like button to all the webpages that you browse. The usage is pretty much simple; Just fill out the form on any webpage and click on the red button and it will save the entire form. So in case if you need to comeback and fill the form again by re-entering the data, just click on the button again and it will fill out the form with your saved data and thus saving you a lot of time, particularly when you are in a hurry.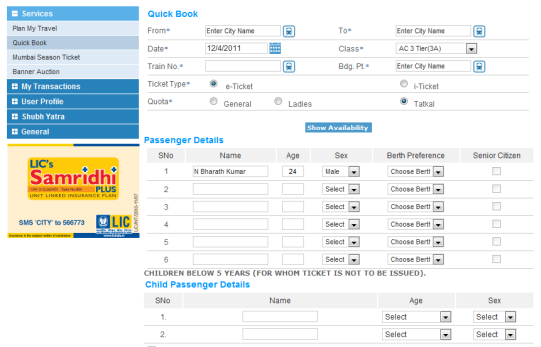 And if you live in India, you might know how hard it is to book a train ticket under 'Tatkal' scheme just after 8 AM. The server crashes, webpage doesn't load properly and so on. You need to re-enter the data in the web form all over again and again. And here is where this userscript saves you. All you need to do is fill in the form for the first time and click the red button to save the data. In case of any failure, you come back to the form and hit the small red button again and it automatically fills in the form for you with the data that you entered previously. That way, you can save time in filling in the form multiple times.
Install Simple Form Filler GreaseMonkey Userscript [Userscripts.org] Via [LifeHacker]