Google Chrome is a very fast and light browser.

It has many advantages. But it lacks one of the most basic feature. That is, if you accidentally click the close button with multiple tabs open, Google Chrome will not prompt you to verify your action. But other browsers like Mozilla and Internet explorer asks once more as shown below.

Now, in order to compensate this feature, Google Chrome allows you to open the last closed tab or Window once again easily.
So if you accidentally or unintentionally close your tab or the whole Chrome browser, you can simply reopen what you want easily.
This can be done in three ways:
1 Choose what you want to open:
Open Google Chrome. You can see the recently closed tabs section below the most visited pages thumbnail. Choose the one you want to open.

2 If you have closed the whole window and you want to reopen all the tabs at once then open Chrome, right click on the window and select Reopen Closed Tab(s) or Reopen Closed Window(s) as shown below: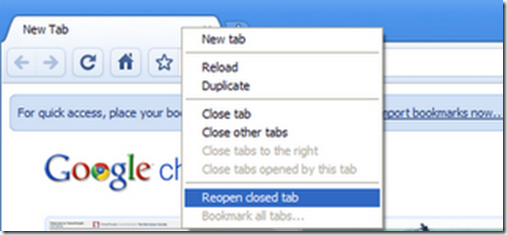 3. By Using the shortcut key (For lazy people like us):
Open Chrome And press
Ctrl + Shift + T
That's it, you don't need to worry about your closed tabs anymore and use Chrome as freely as you want with no worries.