Recently I was searching for a movie review in Google and was astonished to see the Google search results page complete filled with spam results:
Case Study:
Check the below picture for this query in Google.
The top 8 results shown here are spam results.Look at the pattern of the title page carefully, you can easily make out  that these are spam results.
Dare to click any of those results? I did, and I was immediately redirected to another webpage that has no connection with what I was searching, this is definitely cloaking right?
Apart from not giving the desired WebPages that I was looking for, Google giving me pages that are compromising Google index to spam the most popular searches happening at a particular time.Why is the big brother Google pretty calm on this and feeding them, it shouldn't be doing this right?
Well, if you just think like that and leave it without reporting, may be we are encouraging such spammers  indirectly to grow bigger and bigger so much so that they eat entire Google search results space on your browser.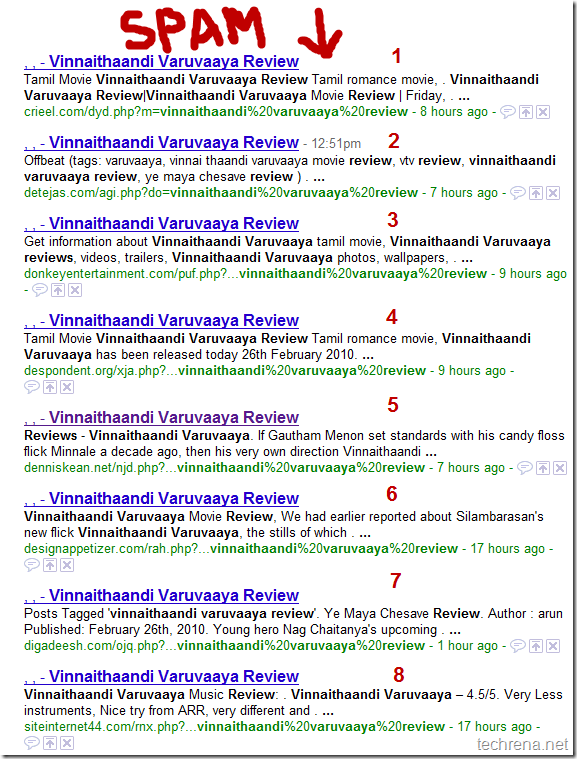 How  I Can Report Spam in Google Search Results?
Search engines do look into the spam reports submitted by the users, as they take this kind of spamming very seriously.You can report to Google about spam in search results from the below links:
>> If you have a Google Webmaster Tools account, you can report from HERE.
>> If you haven't got a Google Webmaster tools account, you can still report to Google from here.
Yahoo:
Report Spam in Yahoo Search results here
But in this particular case, virtually 80% of the top 10 results contain spam (above screen shot).No one in this world will have the patience to report if there are that many spam results in one page.Well, Google has to think about this particular issue.